On Wednesday, May 3rd, Overture Maps Foundation executives and members will join the National Geospatial Institute at the Geospatial World Forum in Rotterdam, The Netherlands, to discuss "A New Model for Open Map Data through Public-Private Partnership."  
Open map data serves as a crucial platform for expanding the use of geospatial services in the economy and society. Launched in December 2022, the Overture project is working to unite various sources of open map data to construct a high-quality, comprehensive global map. The goal is to support thousands of mapping and location-based applications for both commercial and public purposes.
Overture is committed to building the utility of open map data across public and private entities. During the session, we will examine the opportunities and challenges of a novel public-private model for open map data and how it paves the way for broad usage of that data. Key topics to be covered include:
Trends driving new requirements for open map data and integrated features of Overture Maps

Investment objectives for developing spatial data assets to create economic growth and impact.

Overture's features and role in advancing Geospatial Knowledge Infrastructure

Our partnerships with government agencies and support of UN Sustainable Development Goals. 
On stage will be Sanjay Kumar, CEO of Geospatial World (moderator); Jan Erik Solem, Overture Maps Foundation Steering Committee Chair; Jonkvrouw Ingrid Vanden Berghe, Administrator-General at National Geospatial Institute (Belgium); Willem Strijbosch, VP of Product for Maps at TomTom; and Nick Land, Business Development Manager, National Mapping & Cadastre at Esri.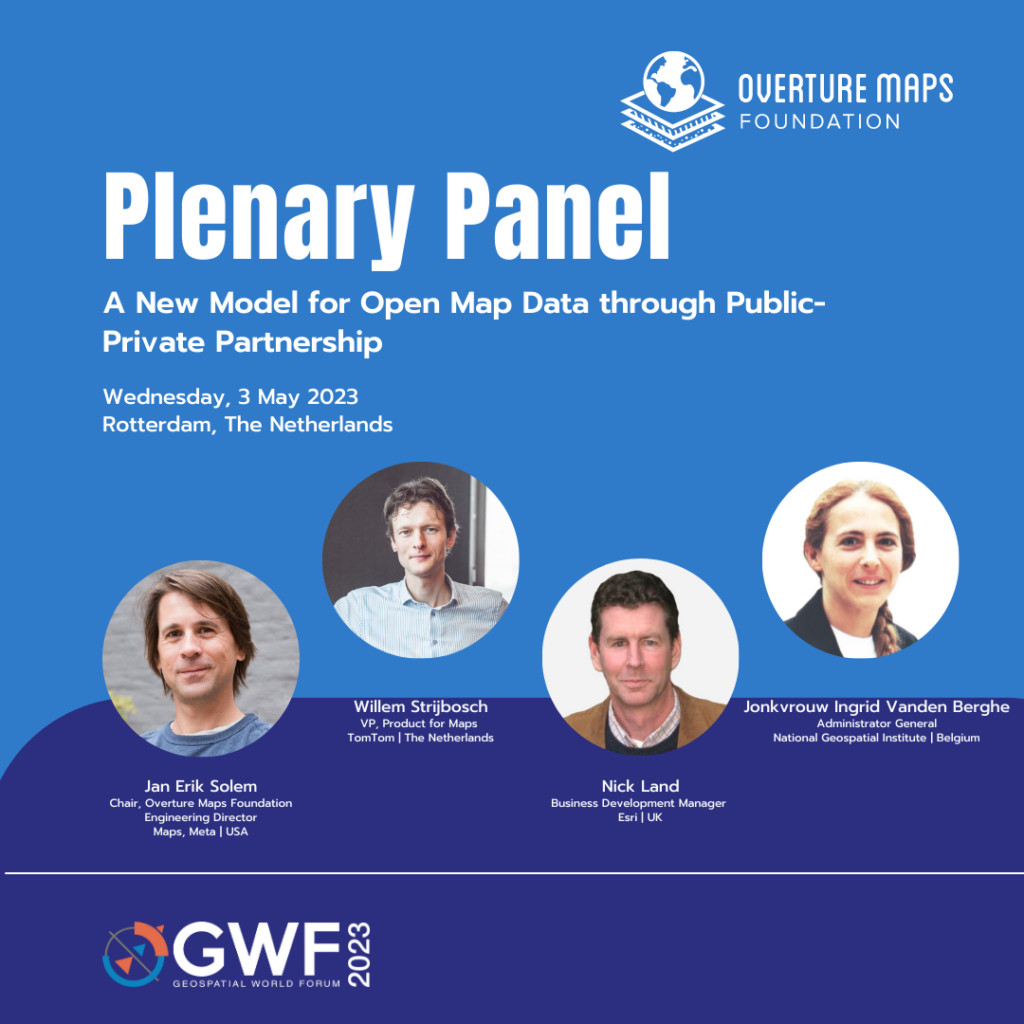 Now in its 14th year, the Geospatial World Forum will see our session sharing an expanding vision of open map data possibilities with an audience of industry professionals coming from the entire ecosystem of public policies, national mapping agencies, private sector enterprises, scientific and academic institutions, and government businesses.  
A New Model for Open Map Data through Public-Private Partnership
Wednesday, May 3rd, 2023 from 12:15-1:00 pm 
Hope to see you at our talk.
Become a member to ensure that Overture supports the features and use cases you care about! Accelerate progress and influence prioritization and decision-making around data investments, technical innovation, and timelines.