Last December, we announced the formation of the Overture Maps Foundation. It marked the start of a process to enlist a growing community of map data users to build an open map dataset that will meet the needs of map service providers as the mapping market evolves.
Since then, we've been busy developing that process, adding new members, making plans and roadmaps and yes, building map data. We're ready to show some of our work. To be clear, it isn't finished. If you're in maps, you know there is no finish. But, at this early stage, we wanted to show some of the directions we are heading.
Today's News
Today we are making a pre-release dataset (2023-04-02-alpha) available that has incorporated some of the new features that we plan to build in Overture. This is not a final dataset…it's a showcase of what we plan to build. We hope that the mapping community will look at it and give feedback but it is not intended for production use.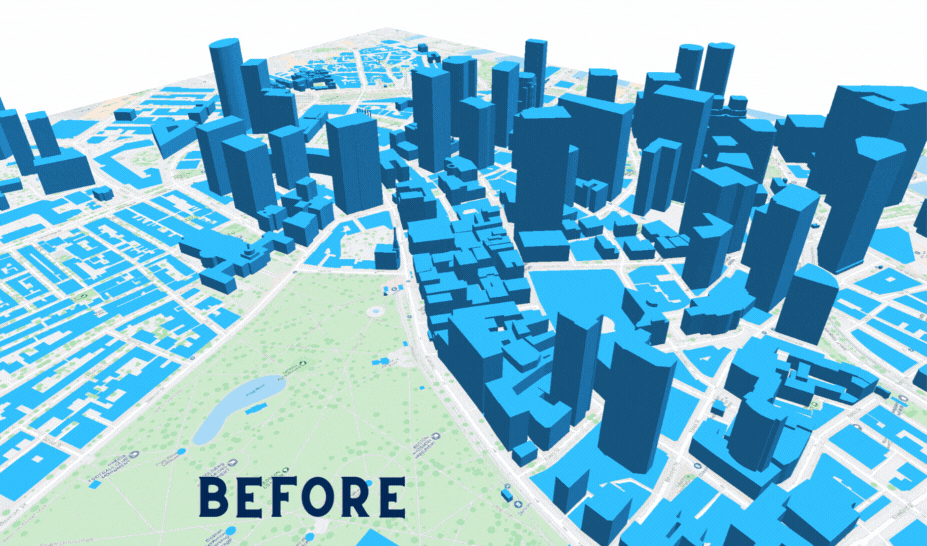 Here is what is in this version:
Collaboratively-Built Map Data:

We have added over six million building heights in this version, located in about 34,000 square miles in Boston, Chicago, Santa Clara and other locations. This data was developed through a combination of efforts. We used the

USGS 3D Elevation Program

(3DEP) lidar data (which covers almost 90% of the US) to give us a detailed terrain model. We compared that to building footprints from OpenStreetMap, the

Microsoft open building footprint data

and some community sources to see where a detected elevation gain was really a building. We then did some engineering to pull out the building heights and added that as open data to drop over six million 2.5D buildings. A deeper discussion of this process is here. In future releases, we will build this out to cover most of the US. This shows the power of combining resources from public and private sectors to build totally new data. There are so many ways this could go. This is just the start.
New Open Map Data Sources:

While we're leaning heavily on OSM data, there are a lot of other open map data sources out there. Those datasets need to be integrated and registered so that they work together. In this version, we have added open map data from Microsoft ML buildings, additional building heights (including on ML buildings), and additional administrative area translations.

 

This is a start, but it demonstrates Overture's commitment to bringing together open data from all sources.

Commercial-Grade Quality Checks:

The core dataset in this release combines the contributions of the global OpenStreetMap community with quality and consistency checks to create a free, stable, and easy-to-use map. We put the data through multiple validation checks to find as many of these problems as we can: broken data, bad words, vandalism, etc. Overture Maps will expand on these quality checks to remove as many quality problems as possible. Our goal is to build in commercial-grade quality. This is the start of that process.
What's Coming Up
Here's what you can look forward to in future releases:
Structured Data Schema:

We're working to design a common, well-structured data schema that will help make maps easier to use. We'll share these designs in the coming weeks, and data in this new structure later in the summer.

Global Entity Reference System:

We're also working on building a system that will link entities from different datasets to the same real-world entities to simplify the process of merging and combining data. We'll share these designs in the coming weeks and will release data with this new reference system later this year. 
We're just starting. This is a long, complex road with a lot of challenges ahead. But we are excited about the team that is coming together. The more we work together on this, the bigger the vision becomes. Ultimately, our goal is to build open map data that anyone can use. We think that will massively expand the use of location as a critical part of the world's shared infrastructure. 
If you want to know more or give feedback, please reach out. Or better yet, join us and help build it yourself.
You can download the file and see the release notes here.